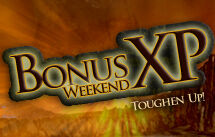 The Bonus XP Weekend has now started! The next time you log into the game, your bonus XP modifier will come into effect. The modifier will begin at 2.7 times the usual rate of XP you would earn from standard training activities, and will slowly decrease down to 1.1 times over the course of 10 hours of in-game time (the modifier will not decrease while you are logged out or in the lobby).
A small 'XP+' button has been added to the interface on the left of the minimap, which will track how much extra XP you are racking up over the course of each session and what your current XP modifier is. The XP modifier will be in effect from now until approximately 12pm (GMT/forum time) on Monday (or the equivalent local time for your country; see this Time Conversion thread if you're unsure what that is).
To get a clearer idea of what actions will and will not be modified by the Bonus XP Weekend, and for more information in general, please read this developer blog and this forum thread.
Enjoy!
The RuneScape Content Team