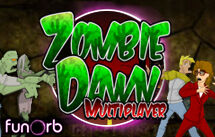 Halloween may well have been and gone, but our sister site, FunOrb, is keeping the horror theme alive with our latest release, Zombie Dawn Multiplayer: Fight of the Living Dead. Building on the popular single-player version, Zombie Dawn Multiplayer brings you 2- to 4-player shuffling action, as you try to capture and/or zombify more humans than your opponents and get them back to your research lab before the time runs out.
The more zombies you're able to get into your portal, the more Research Points you earn. These points are allocated to the power-ups and zombie traits that you can use on your zombies (of which there are LOTS to discover) allowing you to mould your zombie horde to your own style of play. You'll also find that if you're able to herd a few live humans into the portal, too, you'll get a lot more points.
The gameplay of the single-player version was always something we wanted to build on. With the multiplayer version, we've aimed to retain key elements of the original while building an evolutionary path that opens up more strategies the further you get into it. So, for example, dropping a hammer on an opponent's zombie can thwart their carefully laid plans. We hope you enjoy the many ways that this game allows you to cause mayhem! This brings FunOrb to a total of 33 games, 10 of which are multiplayer.
Mod Korpz
Head of FunOrb