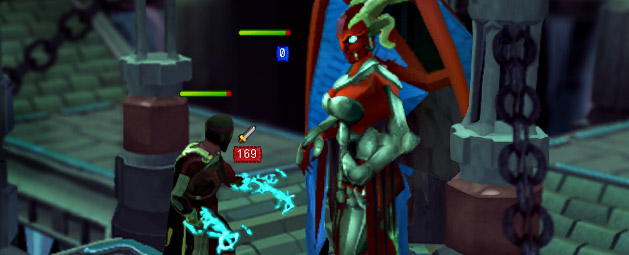 At the beginning of the year we started the Power to the Players initiative, and in the last six months the RuneScape community has used it to shape the game in over 50 polls.
Today brings the biggest player-driven releases so far: the launch of Legacy Mode and return of the 138 combat formula.
This year, we vowed to work with the community on making Evolution of Combat the best it can be, as well as finding an alternative for players who preferred things as they used to be. Our aim has been to allow all types of players to enjoy combat their way, and to have them able to play side-by-side.
Read on to find out the details of Legacy Mode and the many other combat improvements - available in-game now.
---
Legacy Mode
Legacy Mode is an optional setting which allows you to play the modern game, but with traditional interfaces and old-style combat, without the need to learn the new Evolution of Combat system.
Legacy Mode can be turned on or off in either the Game Settings or Powers - Combat Settings interfaces, and when activated enables the following features:
No abilities, with auto-attack damage scaled up
Pre-RuneScape 3-style interfaces, both resizable and fixed
Old-style combat animations and stances
Old-style minimap icons
Health and damage visually scaled down (e.g. 9900 life points in EoC becomes 990 in Legacy)
---
Global Combat Improvements
For those of you who enjoy Evolution of Combat, we've also made significant improvements to the system, based on your feedback. We've fine-tuned these on the beta servers in recent months.
The 138 combat formula has been reinstated, tweaked to have equal contribution from melee, ranged and magic
Special attacks on weapons have returned
Strength bonuses have replaced critical hit chance
Ability damage has been fine-tuned to address some long-term imbalances. Damage output potential remains the same, but weaker abilities have been improved and overpowered abilities toned down
More life points come from stats than from armour, and combat triangle penalties and bonuses are slightly relaxed.
The Loadout interface has been updated to give clearer info for offensive and defensive stats.
Today's update also brings a few Legacy-only and EoC-only game worlds. While the systems have been designed to be played side-by-side, we appreciate that PKers will want to know which mode their opponents will be using.
Fancy seeing this for yourself? Tune into our Twitch channel at 6pm BST today for our special Legacy Live Stream to spend 4 hours getting the lowdown with Mod Pips, Mod Pi, and Mod Slayer.
---
Future Combat
Today's launch of Legacy Mode and the Global Combat Improvements are a landmark point in our quest to make RuneScape's combat the best it can be – but our ambitions don't end here.
In the short term, we'll continue to tune both EoC and Legacy in response to your feedback, and we will also soon be offering limited stat rollbacks for those who used to have pure accounts but lost these in the change to EoC or re-introduction of the 138 combat formula.
In the longer term, we want to do more to revive PvP minigames and the Wilderness; to bring back monster aggression; to rework equipment that has lost its relevance; and to offer options to have Legacy Combat within the New Interface System, and vice versa.
To keep up with our progress on any outstanding issues, visit our 'Known and Fixed Issues' thread.