At the start of the month, we announced that the Community Team would be in-game stamping your RuneScape Road Trip journals, to help you get ahead of the game during this busy time of the year.
The demand was incredible and went well beyond what we were expecting. In just six short days, we've stamped over 84,000 journals. These were the most popular events we've held as far back as we can remember, and it was amazing to see so many from the community getting involved.
That said, we realise it was frustrating for some players because of how busy the game worlds became. At times this past weekend, we had worlds completely filled up, and long queues formed as players attempted to get in for the JMod stamping sessions. We did our best to cope, spreading our team across multiple worlds, and calling in the entire Community Team for super stamping sessions but we still couldn't keep up with the demand.
We're sorry you had to wait around longer than necessary, and we've taken steps to make improvements for the rest of the Roadtrip event in May. This is why - based on your feedback and our own internal discussions - we've added a new feature to our JMod stamping tool. This special addition allows us to stamp journals much more efficiently, meaning you can spend less time waiting and more time 'Scaping! Here's a preview of this much improved stamping: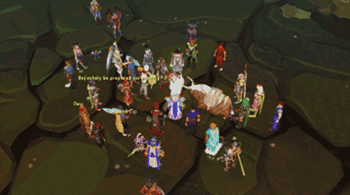 We'd like to invite you down to our next few sessions, so you can see just how quick it is now to get a task over and done with. Later today at 7PM BST Mod Infinity will be on world 106 at the Lumbridge Crater, ready and waiting to get you all stamped at lightning-fast speeds. He'd love to see you there!
We've then got Mods Lewis R, Krista, Wolf, MattHe and Slayer stamping throughout the entire week at varying different times, so be sure to check out our official thread for the schedule, showing times, dates and worlds.
We're sorry to those who struggled to get stamped over the last few stamping sessions, but rest assured we're committed to making your time spent at them worthwhile in the future. We hope you'll pop along to another one of our sessions.
Thanks,
Mod Jane
Head of Community
Community content is available under
CC-BY-SA
unless otherwise noted.