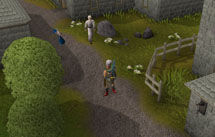 How far can you see into the future? The seers in their village foresee mountains of flax, adventurers fishing, cooking and cutting wood, and many other challenges in and around Seers' Village. Are you virtuous enough to use the Piety prayer? Gather your axe and knife (and bring your best flax-picking fingers), and go see what's in store for you.
Explore the area and discover all the things you hadn't noticed before. From Catherby to the Ranging Guild, and as far north as the coal trucks and Sinclair Mansion, this diary should keep you busy, and remind you why this is one of the most popular areas in the members' world.
When you've satisfied the seers with your knowledge of the area, you'll be rewarded with some handy bonuses: Geoffrey will give you some of his glorious...er...flax, maple trees will reveal some of their secrets to make you that little bit wiser, and you'll discover a new nimbleness in your fingers when using the spinning wheel.
Mod Maz
RuneScape Developer
Queen of the Squirrels

Summary
Where to Start Seers' Village Achievement Diary:
Speak to any seer in the Seers' Village, Stankers by the coal trucks, or Sir Kay in Camelot.
---
In other news...
Players can now right-click on previously sent private messages to send another message to the same person. This applies whether split chat is on or off.
The alchemy values of the crystal bow and Crystal ward have been reduced. We suggest that you check your 'items kept on death' interface before PvPing or entering dangerous areas with combinations of these items, just in case it's not quite what you're expecting if you were to die.
The Slayer ring, combat bracelet and the skills necklace have had their 'delays' removed when operating them.