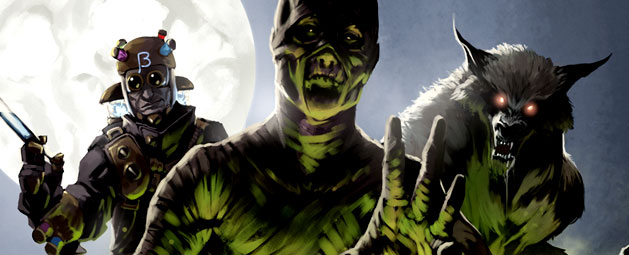 Greetings, adventurer.
I've got three new classic horror movie-style animations waiting for you - straight from the minds of the RuneScape Animation Team!
This is the first Animation Team Showcase my store has hosted. Each of the three teleportation animation overrides offer a long and short departure and arrival - for Home Teleport and region-specific teleports, respectively.
---
Become the unwanted test subject of a mad goblin professor with the "Scientific Breakthrough" animation! Not for the faint-hearted, this animation is pretty electric!
With the freedom of the Animation Showcase, it was our opportunity to push ourselves to create fun, self-contained mini-movie type sequences. As soon as we thought along these lines, Hammer Horror came to mind.

It was a fun excuse to get a bit darker, especially with my "Mad Professor" animation, turning the player from victim to killer. Everyone likes revenge, no?

Mod Pope
---
Ever felt like you aren't treated like the king or queen you really are? Get the recognition and revenge you deserve with the "Ruler of the Ancient Dead" - along with the siphoned energy of two of your risen servants, of course.
You will have the power to transform into a big, powerful mummy. You'll have the size to treat a normal mummy as a puppet, and the power to conjure a sand tornado.

This is my idea of power and brutality. There's no need for a weapon when you are able to crush a skull with a bare hand!

Mod Lelio
---
Or, you could be unleashing your inner beast as the full moon rises with the 'Dark Transformation'. Shake off those pesky goblins and show Gielinor who's boss!
I tried to capture what a werewolf is all about, showing speed, power, aggression and ultimately a violent death for their enemy! I hope you enjoy smashing in the face of the goblins!

Mod Wing
---
All three animations are available now, so visit Solomon's General Store for a closer look. As always, you can get your hands on more RuneCoins by redeeming Bonds in-game, by clicking 'Buy RuneCoins' within my store, or by visiting our billing page directly.
Drop by my store to say hello in-game some time. You can find me just south of the Grand Exchange!
Until next time,
Solomon