Greetings, adventurer.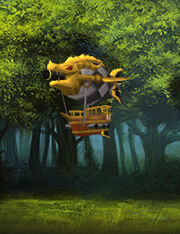 This week's release is a most unusual pet. Not an animal, nor monster, nor any kind of beast. I present to you – the Drakefire Warship!
A truly one-of-a-kind pet, the Drakefire Warship is my first non-living companion. This delightful, durable dirigible floats close to you throughout your travels across Gielinor.
Like all companion pets, the Drakefire Warship has its own emote: surrounded by a swarm of flapping demons, the Drakefire Warship unleashes a cannon assault and eliminates the threat in three devastating shots!
The Drakefire Warship is available now, so please do visit Solomon's General Store for a closer look. If you would like more RuneCoins, you can redeem Bonds in-game. Alternatively, you can purchase additional RuneCoins here, or by clicking 'Buy RuneCoins' inside my store. Finally, feel free to visit me in-game, just south of the Grand Exchange!
Until next time.
Solomon
Community content is available under
CC-BY-SA
unless otherwise noted.