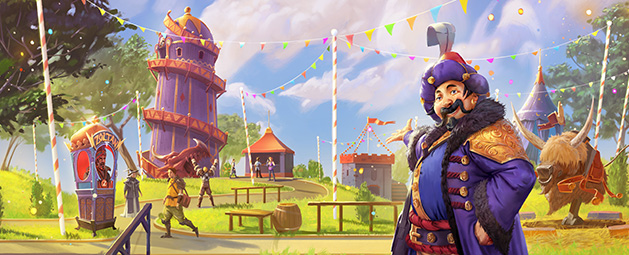 The Helter Skelter has finished its community construction in Lumbridge Crater and the rest of the Spring Fayre has arrived, bringing with it your fortunes, activities and rewards. Check it out for XP, prizes and one awesome ride!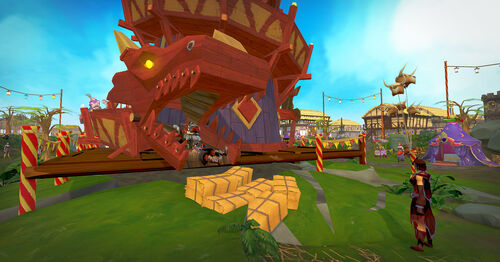 Every day you'll receive 100 tokens to spend how you like in the Fayre. Taking part in any attraction will award XP and give you a chance at a prize ticket, which can be spent on the Fayre rewards.
Zoltan Machine: Receive a gloomy misfortune, and collect all 17 to complete your misery!
Hook a Duck: The Beach favourite is back! With three levels of difficulty, how many ducks can you get?
Helter Skelter: Ride the Helter Skelter from top to bottom for a guaranteed prize ticket and one hell of a good time!
Bucking Baroo: The adventurer Prezleek will help you on-board this fearsome ride. Hang on tight when you're up there!
Pickaxe Wanging: Toss the pickaxe at the runite rocks and see how accurate you are!
Fortune Teller: Kristlin the fortune teller has many secrets, and some she will share with you. Take her fortune for limited bonus xp in one skill at a time.
Test of Strength: How strong do you think you are? Hit the bell to prove it!
Agility Funhouse: Find Karri to jump into the funhouse and find obstacles to cross, wriggle through and jump over.
Easter Egg Shy: Knock over the eggs with your choice of weapon - ball, cabbage or chinchompa!
Candy Floss: Cook up some candy floss for the Fayre.
Dancing: Make sure you do the right dance to maximise your experience!
All of the above activities will reward either xp or bonus xp, and you can keep training for as long as you have tokens to spend! Further tokens and prize tickets can be purchased from the tickets and tokens stall with RuneCoins. Additionally, the below activities will give different benefits:
Scavenger Hunt: Trixie's in need of some items, and wants to enlist your help! Support her in her endeavours for a medium thieving lamp.
Claw-dia Stall: Win fabulous prizes from this hook.
Portals: The Beach portals are back, giving you easy access to popular places.
Chinchompa Hunt: Speak to Menowin when you arrive to get your chinchompa map. Once per day you can search it for chinchompas for free (with a charge for extra goes) to find rare outfits pieces, but beware, the map will refresh every week! One outfit set will be available per week, but once it's changed old outfits will then be available for sale by right-clicking the map item.
Please Note: The festive/easter eggs at the fayre are just for fun. They are not for anything specific - they're just something nice to collect. You will need to have found them all (along with many other things) to unlock a special title, but you don't need to keep them.
Rewards
When you've got enough tickets, you can spend them on any prize you like. Prizes can be purchased from many of the Fayre vendors in a tradeable token form. Speak to Nixie, Rixie, or Prezleek to see what prizes are on offer! You also have a rare chance of winning prize tokens while taking part in the Fayre activities.
---
Good luck!
Keep up with the Spring Fayre Happy hour schedule to get in at the best times, and have fun!
The RuneScape Team
---
In Other News
See the patch notes for further details of today's updates.
---
Live Streams this Week
Each week we live stream Q&As, in-game events and more. Watch our streams and find a full streaming schedule over on our Twitch channel.
Check our YouTube channel, too, for all of our previous streams, including all our Patch Notes videos, and Dev Diaries.
Tomorrow's stream kicks off all you need to know about Menaphos, our summer blockbuster. Are you hyped?
Menaphos: the Story so far | Tuesday April 25th | 16:00 Game Time
Menaphos is coming this summer on June 5th. Are you ready?
We'll have the Titans on the sofas discussing Menaphos - the Desert storyline so far, what players can expect from Menaphosian Lore, and loads more. Do NOT miss it.
Watch from 16:00 Game Time to check it out!
PvM with Mod Lee | Sunday April 30th | 18:00 Game Time
Get your weekly dose of PvM goodness with Mod Lee – don't miss it!