Tears of Guthix: Go with the Flow
If you've never tried Tears of Guthix[help] before, it's a cool D&D located under Lumbridge which - after completing the short Tears of Guthix quest[help] - can be played up to once a week for a handy XP boost to your lowest-levelled skill. It's steeped in RuneScape lore too, as you'll tell stories of your adventures to Juna - a serpentine servant of Guthix - in exchange for a short time catching the XP-giving tears.
The first thing veterans among you will notice is the full graphical rework. Juna, now super-sized and draped across the entrance to the tears alcove, makes for an imposing sight as she unravels the skeins of your fate. The tears themselves now make for a stunning cascade down the beautifully re-rendered walls, and the light creatures shimmer eerily as you make your way through the cave.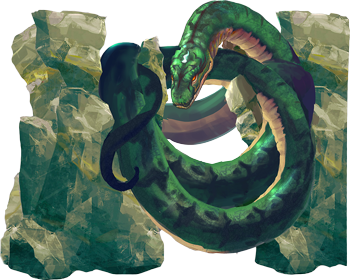 We've multiplied XP gain in the cave by three times, bringing it in line with equivalent areas of gameplay. The biggest boost comes to high-level players, though. Those of you with 80 Crafting and Mining can make an ornate and extra-large bowl for up to five times the XP gain you'd have got before the update.
We've made some technical tweaks so that switching between the streams of tears is quicker and feels more responsive. We've also updated the Games Necklace so it can be used to teleport directly to Juna's cave. The new interface we've built for it includes keyboard shortcuts so, it's quicker and easier to use than ever.
Whether it's your first time collecting the tears, it's a cozy part of your weekly routine, or you've been waiting for a reason get back into the flow, it's the best time ever to drink deeply from the Tears of Guthix.
Mod Wilson
---
How to start Tears of Guthix:
First, you must complete the Tears of Guthix quest, which has the following requirements:

44 Quest Points
20 Crafting
49 Firemaking
20 Mining

You may then complete the D&D once per week, but you also need to have obtained at least one of the following since you last collected the tears:

1 Quest Point
100,000 XP. This can be shared across any number of skills.
Other requirements:
In order to craft the improved bowl, you must have at least the following. You will then be able to talk to Juna to begin the process of making the bowl:
---
Behind the Scenes Video
If you haven't already, you can take a whistle-stop tour of the Tears of Guthix content in our latest Behind the Scenes video:
In Other News
We've fixed a bug where near-maxed level players were not receiving Dungeoneering XP from Tears of Guthix, when they should have.
Solomon's Store is now stocking Dragon Keepsake Keys. One of these handy objects will allow you to convert any wearable item into a cosmetic re-skin for your gear, so you can truck down into the QBD's lair with your p-hat proudly on display. Log into Solomon's General Store to treat yourself, or check out our FAQ if you have any questions.
Later this week, Yelps will be introducing D&D Tokens onto the Squeal of Fortune. Fancy an extra go per week on Tears of Guthix? Look out for more details, coming soon!
The patch notes archive can be seen here.
Discuss this here.