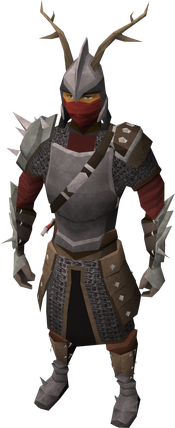 Vanguard armour is a hybrid armour set released on 23 August 2011. It requires level 85 Ranged, level 85 Strength, and level 85 Defence to wear. It is an untradeable set of armour obtained by playing minigames, and outside of minigames it is purely cosmetic. Inside the Castle Wars, Soul Wars, Fist of Guthix, and TzHaar Fight Pits minigames, the armour gives good bonuses to magic defence and ranged defence.
When all five parts of the set are worn, it gives a 15% damage bonus to all attacks on other players in minigames.
The complete set may be placed in the Armour case in the Costume room of a player-owned house.
Vanguard armour is obtained by playing the following minigames for each part:
Parts of this set can also be bought from Stanley Limelight's shop for 700 thaler each.
Components and Bonuses
Free-to-play
Members
Community content is available under
CC-BY-SA
unless otherwise noted.