Vitality Suit
Release date
20 April 2015
Members
No
Components
10
F2P Price
400 RuneCoins
P2P Price
360 RuneCoins
Loyalty Points
N/A
Recolourable
Yes
Available colours
Normal: Green and blue
Inactive variants:

Description
Your very life essence courses through this suit, and as such, the fabric changes colour as you take more damage.

Please note this suit comes in two colour variants - Green to Red and Blue to Red. These are the only recolourable options for this suit.
These cosmetics will not display
in PvP-enabled areas.
[view] • [talk]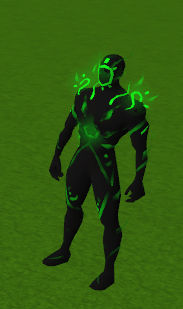 The Vitality Suit is a cosmetic override that is available to purchase from Solomon's General Store for 360 RuneCoins for members. The outfit changes colours based on the amount of life points remaining, and the colours can be changed between starting at blue or green, and fading into purple or orange, respectively. However, the suit will always appear red at a low amount of life points - regardless of the choice of starting colour. It is complemented by the Vitality Suit Accessories pack.
The set consists of:
Vitality Helmet
Vitality Helmet (inactive)
Vitality Chest
Vitality Chest (inactive)
Vitality Legs
Vitality Legs (inactive)
Vitality Gloves
Vitality Gloves (inactive)
Vitality Feet
Vitality Feet (inactive)
Gallery
Community content is available under
CC-BY-SA
unless otherwise noted.