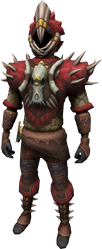 The volcanic trapper outfit is an elite skilling outfit for the Hunter skill that is acquired from combining the Desert, Jungle, and Arctic trapper outfits which could be obtained from Treasure Hunter. Once combined, it is impossible to disassemble the combined pieces. Pieces of the outfit will work with any non-combined pieces from other trapper outfits as long as all other pieces are of the same outfit. Each piece of the Volcanic trapper outfit can be recoloured to Desert, Jungle, Arctic, and Volcanic.
Set effects
When the full set is worn, it has the following effects:
Outfit pieces
Bugs
If the outfit attempts to re-deploy a trap while the player is standing on another trap, they will get the message 'you can't lay a trap here' and the trap will be lost.
Wearing the full outfit will provide 1% bonus experience even if the full Hunter's outfit is not owned.
Divination
Dungeoneering
Farming
Fishing
Hunter
Mining
Runecrafting
Thieving
Woodcutting
Community content is available under
CC-BY-SA
unless otherwise noted.