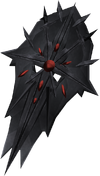 The Ward of subjugation is an item worn in the shield slot. It is affiliated with Zamorak and is dropped by K'ril Tsutsaroth and his bodyguards Zakl'n Gritch, Tstanon Karlak and Balfrug Kreeyath. It requires 70 Magic and Defence to use. Players attempting to obtain the item from these monsters also require an indirect requirement of 70 Constitution and either 60 Strength or Agility to enter the God Wars Dungeon.
The shield is the magic equivalent of the Bandos warshield and the Armadyl buckler. It has identical stats to the Crystal shield, except the Crystal shield has no prayer bonus. It also has identical stats to the fully charged magic-based dragonfire shield; along with a small Prayer bonus.
Dropping monsters
For an exhaustive list of all known sources for this item, see here.
| Source | Combat level | Quantity | Rarity |
| --- | --- | --- | --- |
| K'ril Tsutsaroth | 210 | 1 | Rare |
| Balfrug Kreeyath | 146 | 1 | Very rare |
| Tstanon Karlak | 146 | 1 | Very rare |
| Zakl'n Gritch | 146 | 1 | Very rare |