Weapon gizmo shells are used in the Invention skill to generate perks for use on an augmentable weapon.
Using a weapon gizmo shell opens an interface allowing you to combine different materials to generate perks. This creates a weapon gizmo, which can then be used on an augmented item to give it the perks.
Discovering this device requires level 3 Invention. Success in creating the blueprints earns 400 Invention experience.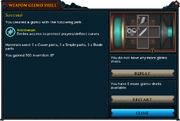 Creation
Disassembly
Trivia
Community content is available under
CC-BY-SA
unless otherwise noted.