Whale's Maw is an island in The Arc region of the Wushanko Isles. It is described as having seas teeming with fish and turtles, which draw whales in to feed. The legendary whale Shuma is often found here, amongst others.
Getting there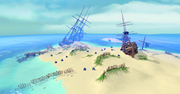 Notable features
Personalities
Music unlocked
Player-owned port voyages
In A Daring Raid the player sends a ship to raid a whaling storehouse in Whale's Maw belonging to a group of callous whalers.
In A Friend Indeed the player sends a ship to befriend a local fisherman in Whalesmaw.
In Howdy Pilgrim the player sends a ship to protect a group of Saradomin priests traveling to a place of religious significance on the coasts of Whalesmaw.
In In Dire Needthe player sends a ship to deliver desperately needed supplies to the local fishermen at Whalesmaw.
In Explore the Seas the player sends a ship to collect resources around Whale's Maw, telling their captain to beware the whales that give the island its name.
Trivia
North of the Tortle hunting area, there is a raft and a volleyball with a hand-printed face floating in the water, a reference to the movie Cast Away.
On the docks there is a boat with three barrels next to it, a reference to the movie Jaws.
NPCs
Music
Miscellaneous
Islands
The Crew
Items
Other
Community content is available under
CC-BY-SA
unless otherwise noted.