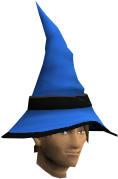 Wizard hat (t) is a blue wizard hat with a black trim. It is only obtainable by members that have completed level one Treasure Trails (although it is rare) , but can be worn and be traded among free-to-play players.
This hat is usually worn by F2P pures as it requires no defence level and gives minimal magic defence . This item has the same bonuses as a blue Wizard hat but is worn by players to show a form of wealth.
Depending upon if you are a female or male player, the hat will look slightly different. For instance, if a female is wearing a wizard hat (t), it will look shorter on the player when it is equipped. But if a male player is wearing it, then it would look longer and skinnier than on said female.
Combat Stats
Requirements
None
Class
Slot
Magic
Tier
Type
5
Tank armour
Weapons
Main
Off
Damage
-
-
Accuracy
-
-
Style
-
Range
-
Attributes
Damage reduction
Armour
30
PvM:

0.1%

PvP:

0.1875%

Life points
0
Style bonuses
Prayer
0

0

0

0

[FAQ] • [doc]
Disassembly
Treasure Trails Magic armour

Wizard
Enchanted
 Hat
 Top
 Robe
Third-age
Second-Age
 Mask
 Robe top
 Robe bottom